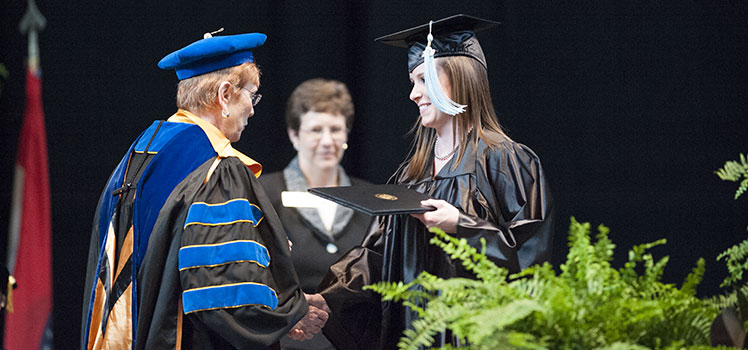 At commencement, you will receive an MU diploma folder and a congratulatory letter. You will receive your diploma in the mail. Most are delivered approximately 3 to 4 weeks after commencement, however extenuating circumstances may cause others to take longer. In order to ensure your diploma is mailed to the correct address, verify your permanent mailing address in myZou.
Sizes
There are two diploma sizes. Students receiving a bachelor's, master's, educational specialist degree or a certificate will receive an 8 ½ by 11-inch diploma. Students receiving a doctorate will receive a 13 ¾ by 16 ¾ inch diploma. All diplomas are printed as portrait style.
Name Changes
If you want a name change to be reflected on your diploma, you must update it in the student records system. Your name must be changed by the deadline provided in an email sent to your student account regarding commencement.
According to University policy, legal documentation is required verifying your new name as well as the name you were previously known as in the MU records system. The documentation must include your:
date of birth
photograph
signature
If the documentation you submit does not contain all three criteria, you will have to submit additional documentation that does. The following are acceptable documents:
current, government-issued ID card such as a driver's license, military ID or passport
current, valid Social Security Card with your new name
federally recognized Indian tribe's enrollment card or a US Bureau of Indian Affairs identification card containing the new name, photograph and signiture of the individual
certified copy of a court order, a marriage certificate or a dissolution decree reflecting the new name in full
Students may abbreviate their middle name without documentation. However, proof is required if a student is adding, deleting or changing an initial to their middle name.
A name change may be processed in person or submitted by mail, fax or email. A completed name changes form along with the appropriate documentation should be sent to:
Office of the University Registrar
125 Jesse Hall
University of Missouri
Columbia, MO 65211
Duplicate Diploma
To order a duplicate diploma, complete the duplicate diploma order form and submit it to the Office of the University Registrar.
Contact
If you have questions regarding updating your permanent mailing address or your diploma name, please contact Diploma@missouri.edu.