Welcome and congratulations, #MizzouMade Graduates! We hope these items will help you celebrate.
Just use right-click (PC) or control-click (Mac) to select any item to download. We've created a content guide with ways you can use these fun pieces.
Try it with this Mizzou Made celebration logo: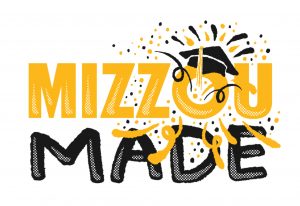 If you aren't interested in adding graphics to photos, feel free to use the ready-to-post content on this page or from the Ready-to-Post and Print page.
Here are some of the ways you can use the items you'll find on this page:
Student Pride Social Posts
These images are ready to post on your favorite social media platform using the hashtag #MizzouMade.
Ready-to-Post General Graphics & Downloads
Check out this page for a list of social media posts, flyers, Mizzou recipe cards, and more that anyone can use.
Themed Stickers
Add these items on top of images for some extra Mizzou Made celebration.
Regalia Stickers
These school and college-specific regalia make it easy to personalize your posts and photos to your major.
Handwritten Affirmations
Fun stickers to cheer on your fellow #MizzouMade grads
Food Stickers
We share so many memories around food. These stickers showcase some beloved Mizzou staples: a slice of pizza, Tiger Stripe ice cream, and of course, a cup of coffee!
Emojis & Party Décor Stickers
Deck out your social with these virtual party decorations.
Truman Cutouts
Truman's ready to make his debut on your photos.